Christmas in July and MORE!
HELLO FROM COMFORTS OF HOME!
Hope everyone is having a great summer! Things are hopping for everyone, but don't want you to forget our CHRISTMAS IN JULY, we have a new line of Christmas fabrics, and it is NOT too early to be shopping for projects for gifts, before they get picked over, so stop on in!

Another thing we have ongoing this summer is participating in the Row by Row a"On the Go!" themed event! It is so much fun to meet people from all over the state, and country! As a matter of fact, if you know how the contest portion of it goes, the first person to come into the shop with a quilt that has 8 rows completed into a quilt (each row is from a different shop), wins a bundle of Fat Quarters, plus specific prize from the shop you turn it in to. Well we are please to announce our Winner is Ellen Pfeiffer from Jamestown. She is featured with her quilt in today's newsletter. Congratulations, Ellen!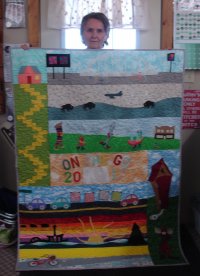 We also want to tell you about the Quilt Exhibit sponsored by Blow's Sew-N-Vac and Modern textiles being held at the Holiday Inn in Fargo, North Dakota on Sept 15-17,2017! There are Classes Saturday and Sunday and a Friday Night Gala, but the event itself is free to the public. We are please to let you know that Comforts of Home will be a Vendor at this Exhibit! We hope to see a lot of you there, so mark your Calendar!
Have a great Summer!
Trish and Company