Here comes October, ready or not! (website corrected)
WE're
ready for October!! :) Just look at those beautiful colors outside! What a quilt of colors!
Come on up to the shop and see what's happening! After the Indian Summer Quilt Show (which was
greeeat!
), we had "taken apart the shop", and now we put it back together again, and almost everything is NEW! You have to see it
here
to see what you are missing~ fall, Halloween, and Christmas kits galore!
What's happening at the shop and elsewhere? I'm glad you asked!
Sept. 29th head on up to the Buffalo Mall with your sewing machine and help sew quilts for the Vets!
Classes
Oct. 16th - 60 degree angle Striped Runner. Mary will be teaching this class for $10.00. Sign up by calling 701-252-5691. You will need the 60 degree angle for this class, and fabric. Call for details. See photo below...
60 degree Striped Runner Class
Beginners Class
Oct. 10,17,24, at 5:30 pm
Watch for these classes coming up in Oct...
Treasure Bags;
Mary and Bonnie will team up to make 2 cute little trinket bags. One would be great for jewelry when travelling, and the other for make-up, lotions, etc. BOTH would make great gifts for Christmas! There's nothing like a homemade gift, so get ahead of shopping and take this class. Once you understand the technique, there's no stopping how many you could put together for the Holidays. We haven't decided on a date yet, so put in your 2 cents worth when it would be handy for your schedule!
Hexagon Class by Mary ...using 1", or 1 1/2", 2" ,or 2 1/2" strips to make a scrappy (use up those extra leftover pieces from other quilt projects) table runner or lap or any size quilt or star. See photo below.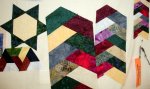 Hexagon Angle class coming up!
Fall and Christmas Craft Show
Friday, Oct. 19th from, 4-9 pm. and Saturday Oct. 20th from 10 am-4 pm at 523 1st Ave N in Jamestown. Everyone is welcome. This is a group of talented ladies that work on projects and have a sale in their home once a year. You miss this, and you have to wait another year to get in on the beautiful homemade items!
Don't forget our
ND Central Plains Shop Hop Oct. 20th
. We would like to get a bus full of quilters and make a 1 day MARATHON RUN to shops in New Rockford, Rugby, Velva, and Minot, plus COH in Jamestown.
Fee is $50.00
, seating is limited so sign up now!
We will leave at 8 am and be back about 6 pm. Bring your own lunch or lunch money in tow.There will be great sales at each shop, and your passport will be stamped for great chances to win the Grand prizes of the Central Dakota Plains Shop Hop. call or stop by to make your reservation. Shelly will be going and she always makes it fun!
Now the sale for Oct. we saved for last.... With any purchase in Oct. you can get the Corner Cutter for half price. Reg. $8.25, so that is a $4.13 savings! This little tool will help you make flying geese without any waste... (just in time for migration! ha)
There's a lot here to swallow, don't miss out! We hope you have an enjoyable week-end from the staff at COH